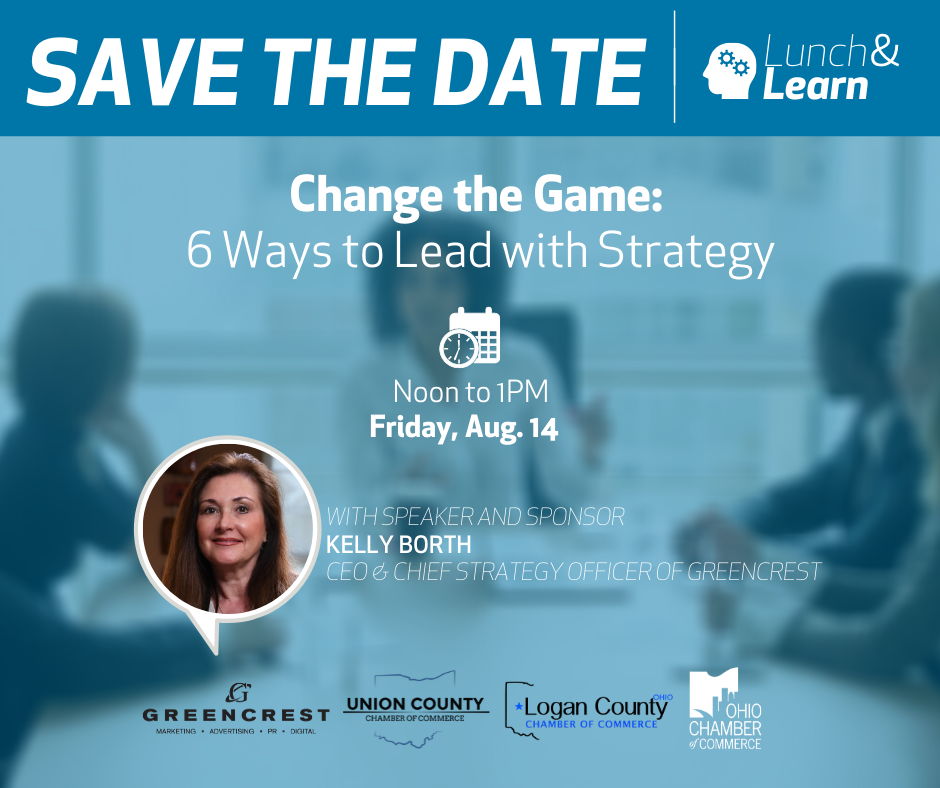 Hosted by the Logan County Chamber of Commerce & the Union County Chamber of Commerce
Change the Game: 6 Ways to Lead with Strategy
The road to business growth is not a clear path anymore. The pandemic and a recession are clouding business owners' vision for the future. In this presentation, you'll hear how to change the game of business growth by leading with six clear strategies – competitive strategy, people strategy, growth strategy, sales strategy, loyalty strategy and success strategy. Using those six areas to define the initiatives that drive to your vision and goals will help you build both short and long-term plans to keep your company on firm footing no matter the business environment.
In this presentation, we will cover:
• Defining your vision and goals, and the initiatives to get there
• The six strategies for growth: competitive strategy, people strategy, growth strategy, sales strategy, loyalty strategy and success strategy
• Why marketing strategy needs to integrate with growth strategies
• How marketing strategy paves the way for an organization to grow, build a reputation, and become known and understood
About the presenter, Kelly Borth and GREENCREST
Kelly Borth is the CEO and chief strategy officer of GREENCREST, a brand development, strategic marketing, public relations and digital marketing agency where "We turn market players into industry leaders®". The firm specializes in serving small- to mid-size businesses in the greater Midwest and Eastern U.S. In GREENCREST's 30 years in business, numerous firm clients have achieved triple top-line revenue growth. Borth has numerous business and community leadership honors, serves on several advisory boards and is one of 35 certified brand strategists in North America.
This event is approved for SHRM & HRCI credit.
Click here for Logan County Chamber registration.