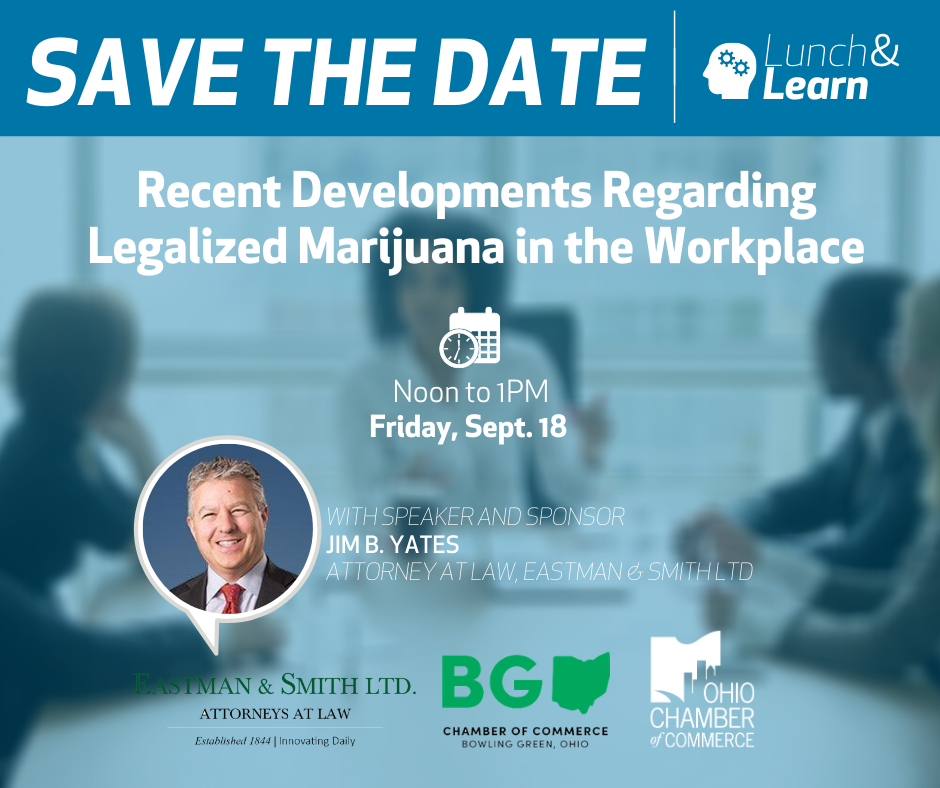 Hosted by the Bowling Green Area Chamber of Commerce
Recent Developments Regarding Legalized Marijuana in the Workplace
Ohio passed legislation legalizing marijuana in the workplace over four years ago. Since then, the legal landscape surrounding medical and recreational marijuana has changed dramatically. Additionally, the global pandemic presents employers with unique challenges regarding implementing drug testing policies and procedures. Jim Yates, attorney with Eastman & Smith, will discuss recent developments regarding legalized marijuana including:
• Recent legislative and judicial developments;
• Distinguishing between legal and illegal substances in light of increased use of CBD and hemp products;
• Developments in testing; and
• Impact of COVID-19 on use of marijuana and workplace testing
About the presenter, James B. Yates, Esq., SHRM-SCP
James B. Yates, Esq. is a Member of Eastman & Smith Ltd.'s Labor and Employment practice group and a Senior Professional in Human Resources (SPHR) who has represented employers in labor and employment matters for over 20 years. He represents employers in all facets of labor and employment law matters including collective bargaining, equal employment opportunity matters, workers' compensation and compliance with the Americans with Disabilities Act, the Family Medical Leave Act, the Fair Labor Standards Act and the Occupational Safety and Health Act. He consults with human resource professionals regarding the drafting and implementation of employment policies and conducts supervisor training. Jim is a frequent speaker at seminars regarding numerous labor and employment law topics. He is active in the various Chambers of Commerce and human resource associations.
This event is approved for SHRM & HRCI credit.