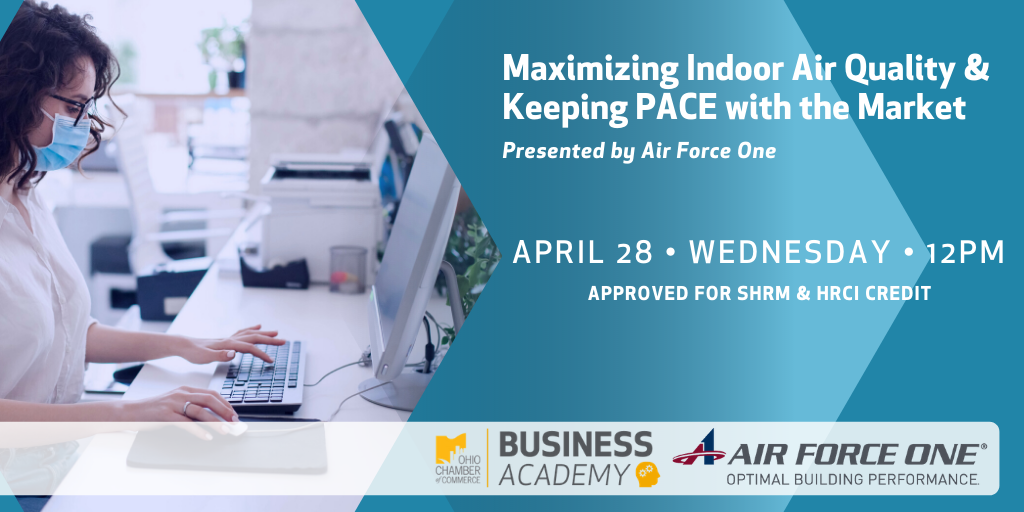 Presented by the Ohio Chamber of Commerce Business Academy in partnership with Air Force One.
📅
Noon to 1 p.m.
Wednesday, April 28
Now more than ever, you may be seeking solutions to mitigate airborne pathogens such as COVID-19. During this webinar, our team will: explore the pros and cons of each air quality option, explain the only proven way to disinfect air streams, debunk common misconceptions about indoor air quality, present one of many funding options that are available, and discuss potential cost savings.
Prioritizing decisions that improve indoor environmental quality is a necessary and important way to demonstrate how a building is putting people first. There are multiple buzz words floating around right now in regard to workplace sanitization and indoor air quality, including increased janitorial, fogging, filtration, UV-C, photohydroionization, bi-polar ionization, needlepoint, increased outside air, and others. Photohydroionization (PHI) can significantly lessen the spread of bacteria, germs, fungi, and virus' such as COVID-19. The goal is to find the right approach for each facility's budget and objectives.
Ohio-based commercial and industrial real estate project developers, energy service companies and contractors are financing energy efficiency and renewable energy projects using innovative Commercial Property Assessed Clean Energy Financing (C-PACE). PACE financing provides fixed-rate, long-term financing to cover up to 100% of project costs. Typical projects require no out-of-pocket expense and generate immediate cash flow for building owners – enabling deeper, more capital-intensive retrofit investments. If you are upgrading HVAC equipment and include specific measures like UV-C with documented energy savings, PACE financing may be a great tool.
Approved for SHRM & HRCI credit.