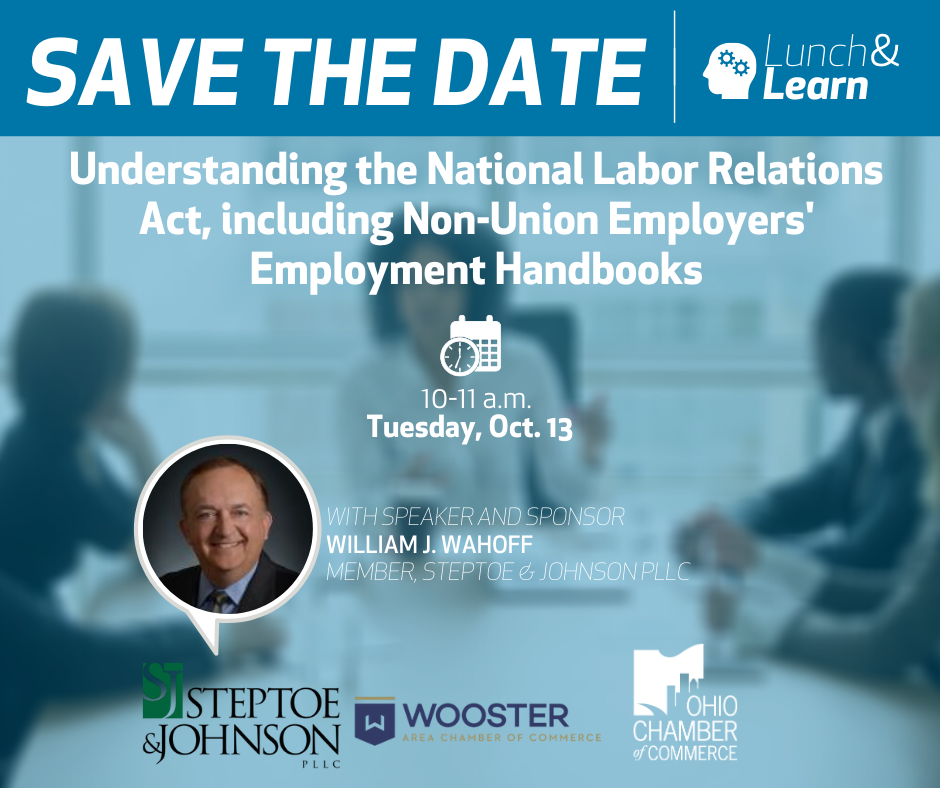 Hosted by the Wooster Area Chamber of Commerce
Understanding the National Labor Relations Act, Including Non-Union Employers' Employment Handbooks
This webinar will include discussions of the National Labor Relations Board itself, including its members, its decisions concerning collective bargaining, unfair labor practices, union elections and their timing, and employment handbooks and policies under the current Board, for union and non-union employers.
About the presenter, Bill Wahoff, member at Steptoe & Johnson PLLC
Bill Wahoff concentrates on keeping his clients in compliance with health and safety laws, including OSHA on a national basis, Ohio workers' compensation, Ohio VSSR, and intentional tort litigation defense. He has vigorously represented employers at several thousand administrative hearings, in numerous court cases, including jury trials, and mandamus actions. He also has significant experience representing employers in federal and state court employment litigation and in labor negotiations. He has handled ADA, FMLA, and race, gender- based, Title VII discrimination cases, arbitrations, federal and state wage and hour matters, and has bargained with the UAW, Steelworkers, Glass Molders and Potterers, OEA and OAPSE. He served as Membership Development Liaison to the American Bar Association Section on Labor and Employment Law, for its Occupational Safety & Health Committee, and has been an active participant, presenter and moderator for the Midwinter meeting for over 24 years. He was chosen by the Chief Judge to present to the Federal Occupational Safety & Health Review Commission (OSHRC) Judicial Conferences in both 2008 and 2010. An Ohio State Bar Association Board-Certified Workers' Compensation Specialist, he is also an OSHA Authorized 10 & 30 Hour General Industry Trainer. He is a Fellow of The College of Labor & Employment Lawyers, and is listed in The Best Lawyers in America® and Ohio Super Lawyers.
This event is approved for SHRM & HRCI credit.