Policy Conference at Salt Fork: September 8-10, 2021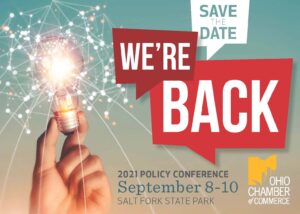 Since 1989, the Ohio Chamber of Commerce has been hosting the Policy Conference at Salt Fork, commonly referred by our veteran attendees as just "Salt Fork." It is a nationally recognized, one-of-a-kind, public policy networking event. Held in off-election years, the goal of this program has been to bring together the members of the Ohio General Assembly with public affairs professionals in a relaxed setting, rather than under the Statehouse dome, to discuss issues that are being debated on Capitol Square. The 2021 conference will take place September 8-10, 2021, at Salt Fork State Park in northeast of Cambridge.
The Ohio Chamber has reserved the entire lodge and many of the cabins for this event. All registration is done through the Ohio Chamber of Commerce at the registration link below. If you have any questions, contact Ashley Wack or 614-629-0918.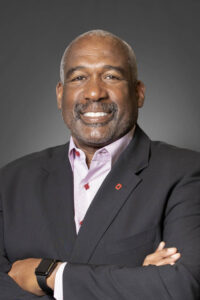 Gene Smith, senior vice president and athletic director of  the Ohio State University will be the Wednesday night keynote speaker at this year's Salt Fork Policy Conference.  The theme of his speech will center around the preparation of college women and men to springboard from collegiate athletics to the workforce of tomorrow.
Tentative Schedule
Wednesday, September 8
3:00 p.m. Registration opens
5:00 p.m. Ohio Chamber of Commerce Political Action Committee Reception (invitation only)
6:00 p.m. Evening poolside reception
7:00 p.m. Dinner and opening program with OSU Athletic Director Gene Smith
9:00 p.m. Hospitality suites
Thursday, September 9
8:00 a.m. Breakfast
9:00 a.m. Policy sessions
Noon Afternoon activities - golf, boating, hiking, winery tour, pool
6:00 p.m. Evening poolside reception
7:00 p.m. Dinner and Capital Square's Got Talent
9:00 p.m. NEW! Evening get-together
Friday, September 10
8:00 a.m. Breakfast
9:00 a.m. Policy sessions
Noon Program ends
Attire is resort casual.
Lodging Accommodations/Roommate Information
We have reserved all 148 rooms in the Salt Fork Lodge plus many of the cabins. The rooms offer varying occupancy with a full bath, two sinks, small refrigerator, television, table, chairs and balcony or patio. The cabins can hold up to 6 people with a king bed in one bedroom and two sets of bunk beds in the second bedroom along with a bathroom, full kitchen, living room and screened-in porch.
Because lodge rooms are limited, there simply are not enough for everyone to have their own room. Therefore, when you are registering, please indicate if you prefer the lodge or cabin and who you wish to room with. If you do not request a roommate, one will be assigned to you. Entering a roommate's name DOES NOT register that roommate for the conference. They must fill out their own registration or you must add them as a guest on your own registration. If you have any questions, please contact Ashley Wack.
Deadline to register was Wednesday, Sept. 1.
Thank you sponsors!
AEP
AT&T
Anheuser-Busch
Buckeye Health Plan
Charter Communications
Delta Dental of Ohio
Dominion Energy
Ford
IGS Energy
Molina Healthcare
Ohio Lobbying Association
Ohio Beverage Association
PhRMA
PJM Interconnection
Rock Central
Sanofi
Sedgwick
Hospitality Suite Sponsors
America Makes
Consumer Energy Alliance
Encino Energy
Ohio Aggregates & Industrial Minerals Association
For sponsorship information, contact Justin Zink at 614-629-0938.